What would the wind energy landscape look like if a group of grade five and six students, limited only by their imaginations, designed the turbines?
For one, it'd be a lot more colourful. Sharks, spaceships, fire trucks… these are just a few of the endless inspirations behind the model turbines created as part of the Renewable Energy Design Challenge, a program offered by TREC Education.
The program challenges students to build a device powered only by the wind. Before construction, students get a lesson on the ways energy is created and converted into electricity, and the different types of renewables. Students also learn the story of William Kamkwamba, a young Malawian inventor who built a wind turbine out of scrap materials to power his home, connecting the activities in the classroom to real world examples of the way renewable energy can change lives.
When it comes time to build, students have the tools and knowledge needed to make their turbines both functional and flashy, but some trial and error is still required.
"Students learn that their first ideas ALWAYS require modifications," says Abasi Sanders, TREC Education Program Manager.
"The wind turbine blades have to be a certain length to provide the highest voltage. Students have to develop a stable foundation to support the design of their turbines whether it's a ballerina, jet airplane or miniature CN Tower. STEM (science, technology, engineering and math) teaching principles are completely utilized."
With many under-serviced schools across the city, the Design Challenge also provides an important opportunity for experiential learning, a form of education not always possible within some schools' limited resources. Oakdale Park Public School in North York, for example, lacks a full science lab, and so the Design Challenge allows Oakdale students to conduct science experiments through a creative, hands-on approach that is so effective for science and energy education. According to one teacher, "the students are highly motivated by the hands-on nature of the project, as well as the fact that their finished turbines actually produce electricity."
The turbines created as part of the Design Challenge are displayed at community events, giving students a chance to show off their hard work, while also engaging individuals' curiosity about wind and encouraging dialogue about this important form of energy production.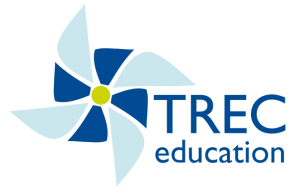 Learn more about TREC Education's programs
Support TREC Education at the 3rd Annual School's Out Fundraiser featuring comedian Sean Cullen (early bird prices still available!)