As a UTSC student, Zahra has had first hand experience with the campus's new LEED Gold certified buildings. Her specialization in Climate Change Impact Assessment makes her passionate about renewable energy and energy consumption.
Summer of 2015 marked an exciting time in the history of Toronto. The city played host to the Pan American (Pan Am) Games, inviting spectators from all across the Americas to witness athleticism in its prime. Billions of dollars were spent to prepare the city for the games and a nearly $672 million of the budget was spent on infrastructure upgrades and development alone.
The largest infrastructure built for the games was the Toronto Pan Am Sports Centre (TPASC) located at the University of Toronto Scarborough (UTSC). The building, owned jointly by the City or Toronto and the University of Toronto, houses two Olympic sized swimming pools and an indoor recreational track course. However its most state-of-the-art feature is its sustainable design. TPASC acquired its LEED Gold certification earlier in April, ranking it one of the 'greenest' buildings in North America. Sustainable features include:
LED lights throughout the building which consume 80 per cent less energy than incandescent lights, and about 35 per cent less than fluorescent
60,000 feet of green roofs which cover around 30% of the entire roof space
1,854 solar panels which generate 593 kW of power per hour, reducing the overall energy consumption of the building through the grid by 10 to 15 per cent TPASC was one of two new sustainable buildings to open at UTSC during the summer of 2015.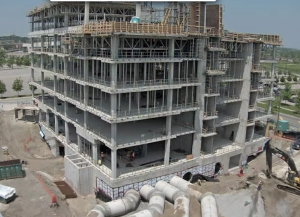 The new Environmental Science and Chemistry Building (ESCB) has also achieved LEED Gold status. This building features "earth tubes", which run from the building, underground and connect to above-ground vents. The tubes supply air from outside and feed it into the buildings HVAC system, decreasing the amount of air needed to be heated or cooled depending on the time of the year.
With the opening of two LEED Gold certified buildings this year, UTSC, joins hundreds of other universities worldwide that are showing leadership in green building design. In late 2015, Harvard broke the record for the number certified LEED buildings on a single campus with 100 green buildings. Harvard's LEED projects are estimated to save more than $4.7 million in utility costs and reduce carbon dioxide emissions by 11,000 metric tons each year.
TPASC is also a powerful example of how collaboration between a local government and a university institution can lead to innovation that prioritizes climate change. TPASC is not only a sustainable building, it is also a reminder of our responsibility, as a community, to think about energy sources and consumption on a deeper level.
Header photo courtesy of TPASC
ECSB photo courtesy of Diamond Schmitt Architectures