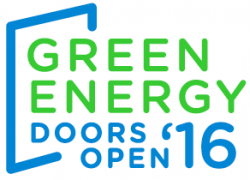 Have you ever wanted to see solar panels up close, discover the workings of a net zero energy home, or find out how beer, wine and chocolate can not only be delicious but sustainable too?
You can do all of that this year- Green Energy Doors Open is an annual event organized by the Ontario Sustainable Energy Association that gives everyone the chance to visit and learn about sustainable energy projects right here in Ontario and in Alberta.
Visit an event near you during this year's event, taking place from September 9-11th, 2016. Until then, stay tuned to Our Power for inspiring stories from the Green Energy Doors Open participants who are making a 100% sustainable world 100% achievable!