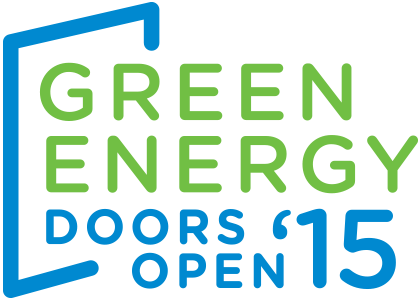 This is a Green Energy Doors Open feature story. To learn more, visit greenenergydoorsopen.ca
Green Energy Doors Open is an event organized by the Ontario Sustainable Energy Association. It took place on October 3rd, 2015 and showcased renewable energy projects run by individual homeowners, communities and local organizations throughout Ontario. Its goal is to demonstrate the progress that the province is making in achieving a 100% sustainable energy system. Last Saturday, I took the opportunity to visit two open house events in Toronto — a "Smart Home Tour" at 2575 St. Clair Ave., and a "LEED Gold Home Tour" at 20 Senlac Rd.
2575 St. Clair Avenue: A Solar PV Powered Smart Home
The house at 2575 St Clair Ave is a solar PV-powered home. It is still under construction at the moment, but according to the owner, Jerry, it should be complete in 6 months. What piqued my interest about this house was that it modelled a passive house. Passive house is a rigorous, voluntary building standard that aims to achieve up to 75% reduction in demand for heating, cooling, and primary energy usage. That's a lot of energy saved.
Another unique aspect of this home was the fact that it would be using a net metering system, where the solar energy generated would be utilized domestically for all its energy needs, instead of supplying it to the grid through Ontario's MicroFIT (Feed-In-Tariff) program. As Jerry and I discussed the various features of the building, he told me that the house will be heated and cooled using a technology called a "air-to-water heat pump", instead of the more common and popular "groundsource heat pump".
Essentially, air-to-water heat pumps use heat energy from the outside air to heat and cool a home. This type of system is less efficient in cold climate regions such as Canada, where there is insufficient outdoor heat. In that case, back up systems that help to provide additional heating are required. However with the advancement in research and technology, more modern heat pumps with improved performance are also starting to become available. Water heating in the home will be done using a solar thermal system, which collects energy from the sun to heat water for domestic use.
Jerry also told me that when the house is done it will have the ability to power electric vehicles, as he plans to purchase one in the near future. Being an electric vehicle enthusiast myself, this really impressed me. Overall, I would give this solar home an A+ for effort and for being highly energy efficient.
20 Senlac Road: A LEED Gold Certified, Modular Home
The second house that I visited is a solar PV home as well as a LEED Gold certified home. Similar to the previous solar home, this house was equipped with solar panels to generate energy. However, instead of keeping the power for domestic use, this house supplies the energy generated back to the grid through the MicroFIT program.
The homeowner, James, was incredibly knowledgeable when it comes to energy efficiency, renewable energy technologies, and LEED. I later learned that he is an agricultural engineer who is also LEED certified. In the short one hour that I spent with James, I learned more about LEED than I did in a weeklong "Introduction to LEED" workshop I took in university.
This impressive LEED Gold home has features like 21 built-in solar panels, a green roof (with a cool drought-resistant plant called "Sedum"), a geothermal system for space heating and cooling, LED lighting, "Energy Star" certified appliances, and low flow water fixtures.
James proudly told me that his house is the only modular home in Canada, meaning that it was constructed following the highest building standards and quality control, has very low wastage, and built to be as sustainable as possible. Fun fact: all the building materials were sourced from within 500 miles of the site, and the entire house was assembled in only 2 days. The MicroFIT program and LEED-related investments not only provides energy savings, but financial payback as well. I learned that the payback period for this house would be approximately 12 years, with a return on investments of 10-12%.
After visiting these two eco-friendly homes, I can say that I am sufficiently inspired and impressed by the commitment of these two homeowners to building a living environment that is as "earth-friendly" as possible. James and Jerry both agreed that although the initial investment is high, the return on future investment would definitely be worth it, as both cost and energy expenditures will be reduced. Now that I am a burgeoning energy expert thanks to James and Jerry, I have big dreams of owning a similarly sustainable, green energy-powered home in the future.